---
Overview and Specifications:
Provide Solid Accident Evidence and Help with Insurance Claims
G-sensor
Due to the G-sensor technology, 70mai Rearview Mirror Dash Cam can automatically start recording when collision detacted.
Footage locked in Event File seperated from regular file to avoid being overwritten
Defog
Defog algorithm can effectively reduce distortion or degradation of images and reproduce a clear vision while driving in smoke and haze environment.
WDR
WDR technology can adjust exposure balance, enabling the camera to pick up greater detail in darkness and highlights,
allowing the dash cam to process more light on the sensor and produce a more vibrant image.
140deg Wide Angle
140deg Wide Angle allows a larger viewing angle to be recorded, and enables drivers to see 4 lanes of traffic.
Along with 6 glass, it can provide light transmission, thus recording crystal clear video.、
24-Hour Parking Monitor
In parking mode, 70mai dash cam pro enters into sleeping mode but keeps monitroing vehicles.
The time-lapse allows efficiently use of storage, and automatically overwitten the oldest footages with the latest ones.
Due to the G-sensor, cam start recording videos itself if there's any collision occurs, and the footage of event will be stored
seperately in Event Files, avoiding being erased.
Advanced Driver Assistant System (
ADAS
)
ADAS, A modern highly sophiscated safety feature designed to boost driving safety.
Besides the basic function of dash cam, 70mai dash cam pro will guarantee you a safer drive by monitoring sync traffic environment provides lane depature and forward collision
warnings, rectify driving and assists drivers.
Product Specifications
Model: Midrive D04
Image sensor: SONY IMX335
Resolution: 2560 × 1600
Camera: FOV 140°,F1.8,6-glass lens
Wireless connection: Wi-Fi IEEE 802.11 b/g/n 2.4 GHz
Sensor: Acceleration sensor
Supported OS: Android 4.4 or iOS 9.0 and above
Expandable memory: Supports 16~64 GB MicroSD cards that have a rating of Class 10 or above.
Power supply: Car cigarette lighter
Battery capacity: 500 mAh
Battery type: Lithium-ion polymer battery
Input: 5 V—-2 A
Dimensions: 304.3 × 76.7 × 15.2 mm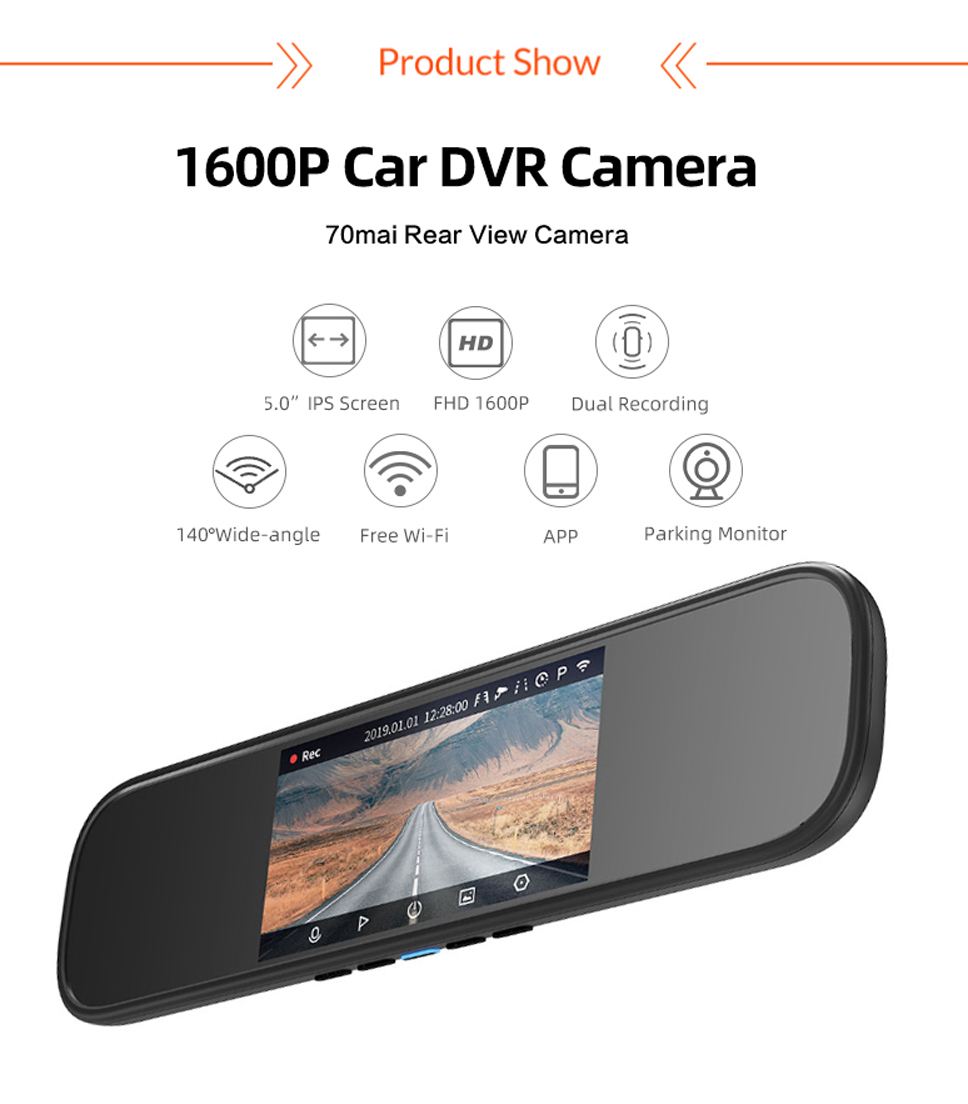 Super High Definition Picture
2K HD is equipped with Sony IMX335 image sensor, breaking through the mainstream configuration of the market.
The recording resolution is up to 1600P, which is about 2x that of 1080P. 1600P Full HD resolution
with WDR that adjust the exposure balance both in darkness and strong light
and produces a more clear and vibrant image.
It adopts 6 sets of all-glass lens and infrared IR-CUT lens, with F1.8 large aperture and 140 degree FOV,
sufficient light, and the color and detail of the picture are more excellent,
recording the beautiful scenery during your journey.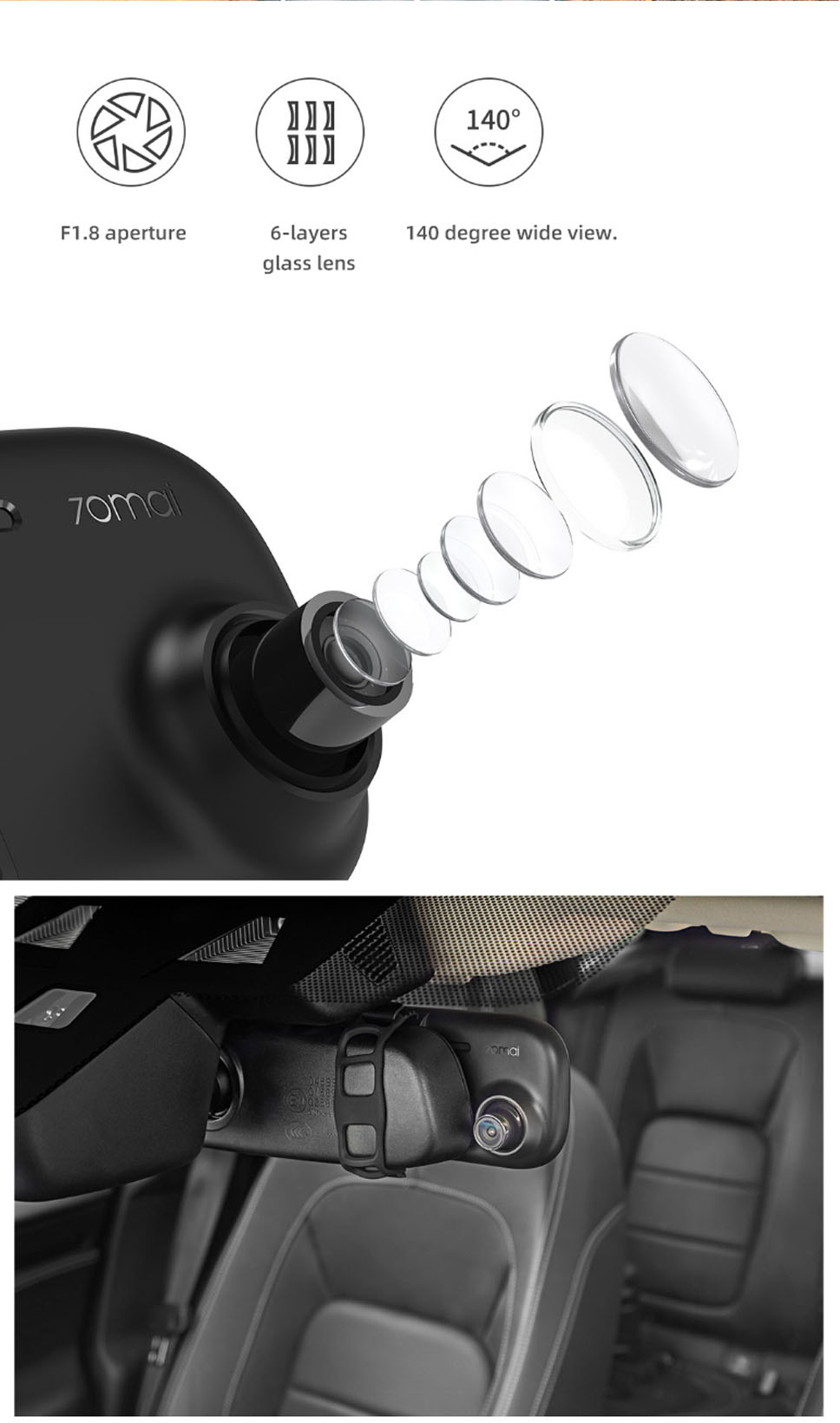 In parking mode, 70mai dash cam enters into sleeping mode but keeps monitor vehicles
5.0 inch Large IPS Screen
Dual cameras that allows for simultaneously recording video from different angle,
let you have clear view from front and back-up camera
Free Wi-Fi Connection
Connect to the driving recorder free WIFI, you can watch the historical images real time,
and download video to your mobile phone.